Take Your Intralogistics System to the Next Level With Festo Automation Technologies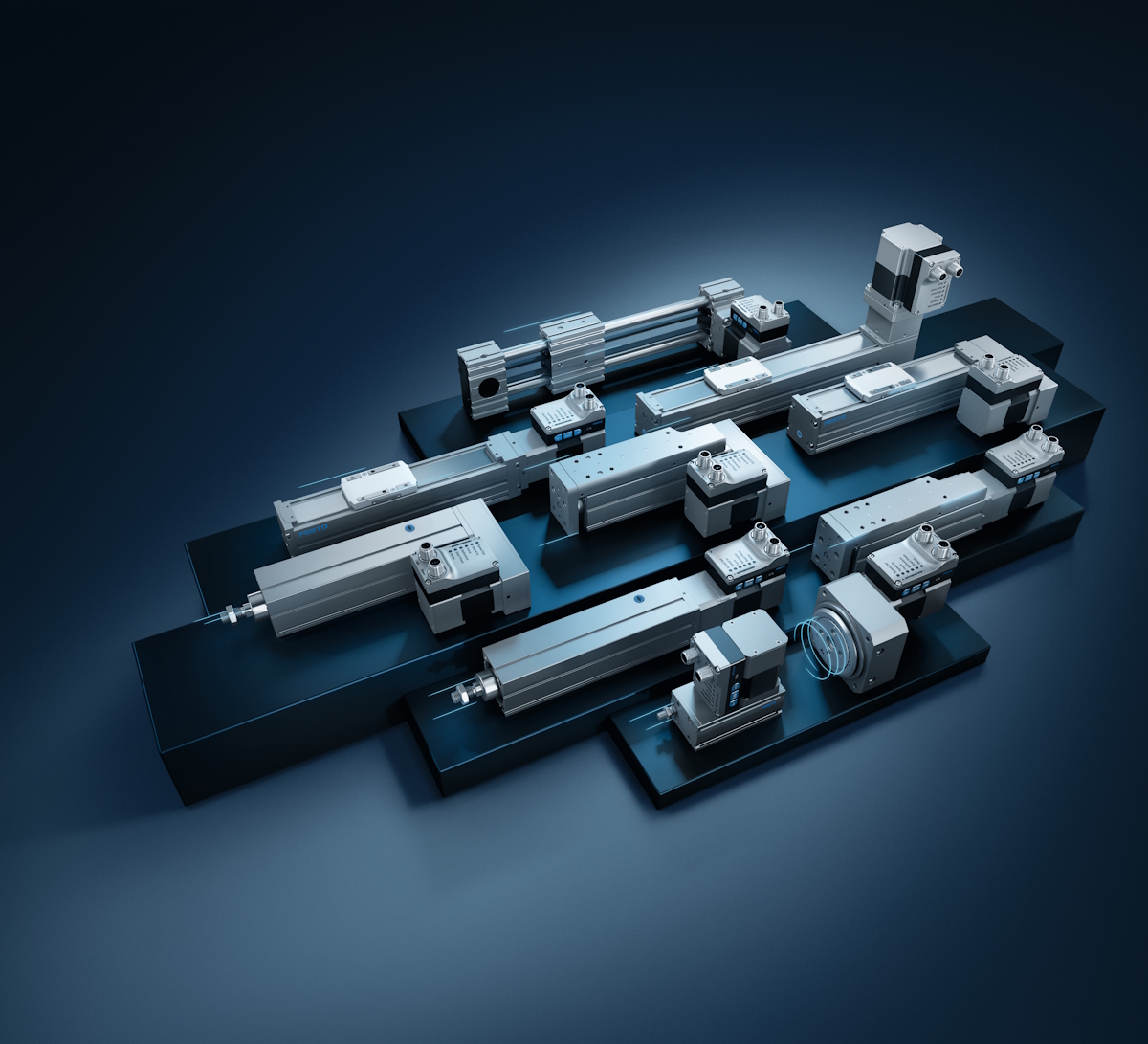 You can simplify and improve your intralogistics system's performance using Festo automation technologies. Benefits include a sleeker, more symmetrical system design, greater flexibility and higher productivity, which in turn can shorten your time to market in our current competitive landscape. Here's a quick rundown of some of these technologies, which include electric, pneumatic and connectivity solutions, online engineering tools and technical training.
Electric Systems With the Simplicity of Pneumatics
The Simplified Motion Series (SMS) electric axes include a motor with integrated servo drive and IO-Link compatibility, making this system comparable to pneumatics in terms of cost and installation ease. These machine-mounted axes also offer low energy consumption and data generation capabilities — characteristics you usually find in mechatronic systems. The SMS series is ideal for tasks like picking and placing, dropping, pushing, lifting or trapping items on conveyors. It has a simple, flexible form factor and can significantly reduce energy usage and minimize the cost per I/O point by using IO-Link communication instead of analog.
Other features and benefits include:
Multiple axis configurations, such as ball screw, toothed belt, mini slide and more.
Onboard push-button commissioning — no additional software required.
Various diagnostic capabilities, including cycle count and alarm data.
Operational data for improved quality and predictive analytics.
Next-generation Remote and Decentralized I/O
The CPX-AP-A is a next-generation, lightweight and flexible remote I/O system with IP65/IP67 protection and a real-time transmission rate of 200 megabits per second (Mbps) full duplex. Scalable for up to 15 modules, it features a complete IO-Link master data storage mechanism and device parameterization tool.
Another option is the CPX-AP-I, which seamlessly integrates with Ethernet communication networks from leading PLC manufacturers. Modules can accommodate over 80 digital and analog input blocks, valve manifolds and IO-Link master modules, optimizing control and data acquisition capabilities per interface. The CPX-AP-I supports distances up to 50 meters between SMS devices, IO modules, valve terminals and CPX-AP-A nodes.
Both the CPX-AP-A and CPX-AP-I — which support Ethernet/IP, EtherCAT, PROFINET and Modbus TCP/IP — give you the flexibility you need to design unique solutions for your customers. You can also connect remote and decentralized inputs and outputs to achieve the I/O density your layout requires. For example, place 80 digital inputs, along with valve terminals, in one location and then connect 50 centralized SMS aces and additional IO-link devices or analog devices. Using one fieldbus node, you can string together another mix of 80 modules that are 50 meters apart further downstream. These remote, decentralized I/O solutions feature industry-leading speeds on a single network and IP address.
Online Productivity Tools
To help you be more productive, we offer a wide range of online engineering tools, such as our SMS Series Solutions Finder, Electric Motion Sizing software and Pneumatic Sizing software for error-free sizing of linear and rotary systems. In addition, our Automation Suite simplifies the electric commissioning process, while our CMMS-ST motor controller configurator can save you time while ensuring accuracy.
Using PartdataManager, you'll receive CAD data in 2D or 3D formats for our entire catalog of 33,000 products. These and other productivity tools are free and accessible online.
Training From Mechatronic Experts
The educational arm of our company, Festo Didactic, takes lifelong learning and mechatronic technical training to a new level, assessing and preparing learning curriculums based on your individual needs. The Festo Learning Experience (Festo LX) is also our new online portal that makes it easy to create individual learning experiences.
Improve Your Intralogistics System Today
Thanks to our wide range of automation components, systems, tools and training, we can take your intralogistics system to the next level, lowering your engineering overhead, boosting engineering productivity and enabling you to bring new systems to market faster.
Learn more on our website.