Exploring Flexible CPX-AP Decentralized Automation Systems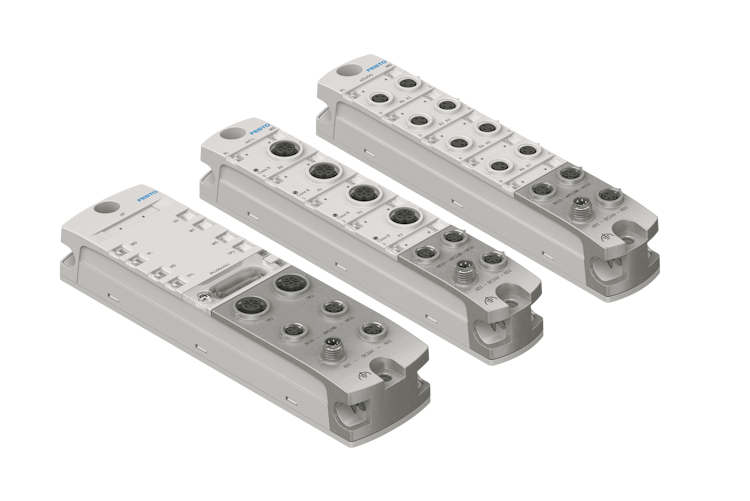 Perfect for taking your digital automation efforts to the next level, remote and decentralized input/output (I/O) systems transmit machine data in real time, increasing data availability and process visibility. With the CPX-AP-I and CPX-AP-A remote I/O systems, you can integrate existing digital I/O, analog I/O, IO-Link® devices and Festo valve terminals with ease. These flexible automation systems pass data to Industrial Internet of Things (IIoT) gateways, enabling seamless data exchange with cloud and edge servers.
Both CPX-AP-I and CPX-AP-A are based on Festo AP (Automation Platform) technology, a backplane communications platform designed to achieve the highest level of integration and functionality among devices.
Here's a quick rundown of the CPX-AP-I remote I/O modules and the newer CPX-AP-A remote I/O terminals, including some of their features and benefits:
About the CPX-AP-I and CPX-AP-A Automation Systems
CPX-AP-I is a decentralized I/O system in which I/O and pneumatic valve manifolds can be easily integrated into leading industrial Ethernet networks — including PROFINET, EtherNet/IP, EtherCAT, Modbus TCP and PROFIBUS. CPX-AP-I modules are IP65/67-rated and may be placed outside of cabinets or in clusters around the work cell. Every module in the system communicates to the industrial Ethernet network via a CPX-AP bus interface, using a high-performance, real-time backplane transmission rate of 200 megabits per second (Mbps) full duplex.
Other features include:
End-to-end connectivity with an extended diagnostics option.
Flexible networking of up to 80 modules per bus interface.
Cable lengths between adjacent modules of up to 50 meters in length.
IO-Link® masters and Festo Automation Suite software for easy integration of IO-Link devices.
Simple integration into the industrial network of your choice: PROFINET, PROFIBUS, EtherCAT, EtherNet/IP or Modbus TCP.
Download the brochure to learn more. You can also watch the following video to see the CPX-AP-I in action.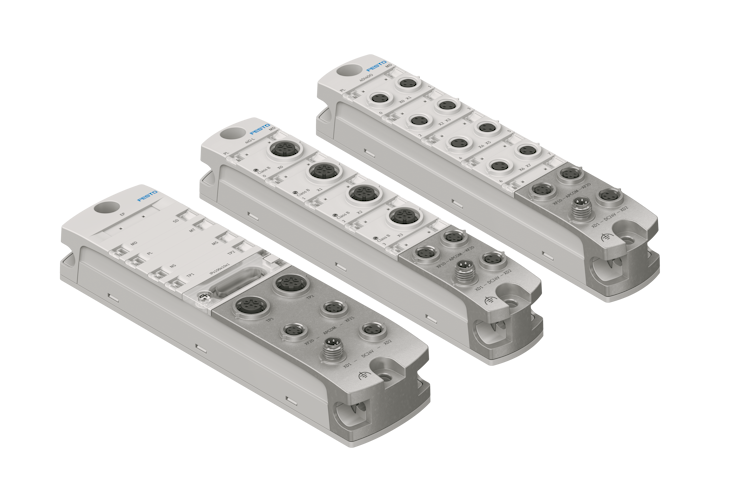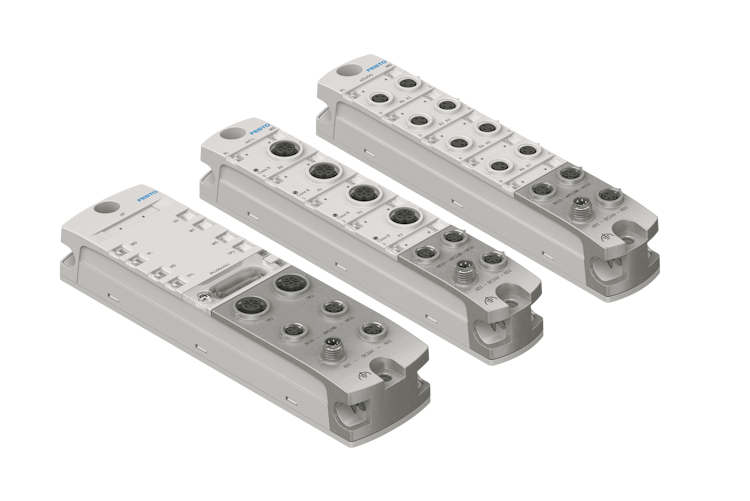 The new distributed I/O system CPX-AP-A is a configurable remote I/O terminal, where individual I/O blocks, IO-Link® masters and pneumatic valve interfaces are combined onto a single terminal. These terminals are robust and lightweight and can include up to 15 modules per terminal. CPX-AP-A is also natively compatible with CPX-AP-I modules, meaning that terminals and modules can be connected via AP data and power cables, in any sequence or number, to build system topologies that exactly meet the needs of the machine.
Other features include:
IP65/IP67 rating.
Integrated web server for easy and fast commissioning.
Seamless integration with Festo valve manifolds.
Easy integration into standard host systems.
IO-Link® V1.1 master modules with data storage mechanism.
Commissioning via the software tools of PLC manufacturers or Festo Automation Suite.
Extended diagnostics and predictive maintenance capabilities — e.g., counting valve switching cycles and monitoring cable quality.
Download the brochure to learn more.
Flexible Topology With Festo CPX-AP
The CPX-AP-I and CPX-AP-A automation systems are based on Festo AP communications technology, which gives you the freedom to optimize your machine or work cell by adding I/O and valves wherever you need it. Whether physically attached to a single terminal or connected via cables, all CPX-AP modules appear as one smart system under a single IP address. Having the entire distributed topology under one IP address reduces hardware costs and system complexity. Since many PLCs come with a limited number of IP addresses, this solution unlocks more capabilities per PLC.